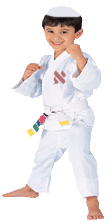 At Chabad Hebrew School, we use the Aleph Champ, Hebrew reading curriculum.  Aleph champ uses the color system of karate to motivate children to achieve the "black belt" of Hebrew reading fluency.  Each level is based on complexity of letter-vowel combination together with speed.  
During holiday seasons, we have a curriculum mainly revolving around traditions and food.  We also use the "Jewish Home" curriculum, which teaches about Judaism as we tour each room of a Jewish home.  We use the "Jewish Heros" curriculum for teaching about the great Jewish personalities.  The "Jewish Virtues" curriculum for Jewish values.  We also use the "Tour through Torah" curriculum for teaching the story of the Bible (Torah).  Obviously, we can't teach each curriculum every year, but by the time your child graduates, he or she will have a strong Jewish identity and full of sacred and traditional information.  
Children preparing for a Bar or Bat Mitzvah will find Chabad Hebrew School to be a great preparation (additional tutoring is advised) for their big day.