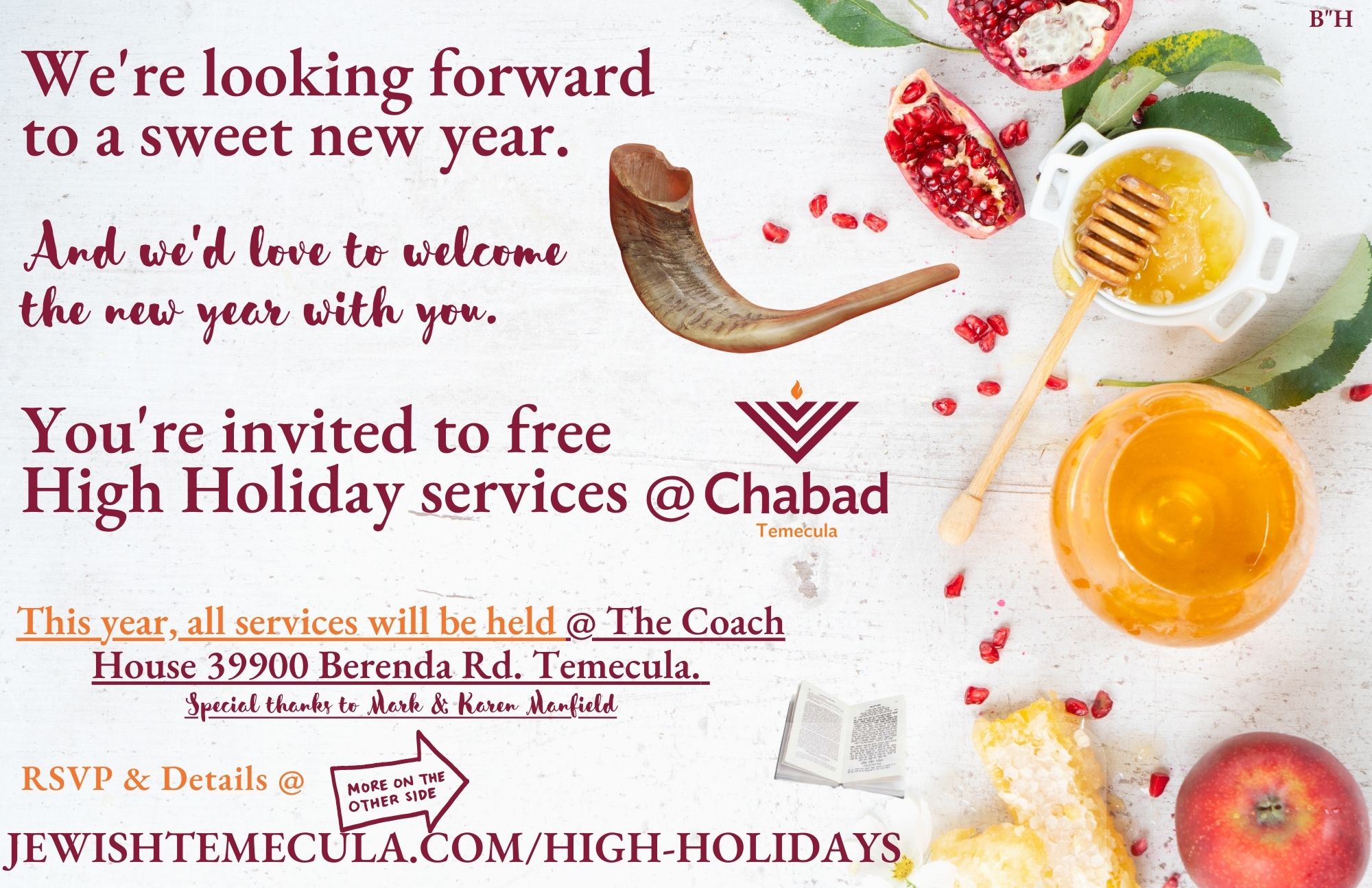 High Holiday Schedule 5784 
All Rosh Hashana & Yom Kippur services held at The Coach House 39900 Berenda Rd. Temecula, CA 92592 courtesy of Mark Manfield 
Rosh Hashana • September 15-17 
Since the first day of Rosh Hashanah is on Shabbos this year, the main service, with the shofar blowing will be the 2nd day (Sunday)
Friday, September 15
6:37 PM - Candle Lighting
6:30 PM join us for candle lighting & evening services at the Coach House
Shabbos, September 16 (Service but no shofar)
9:30 AM - Shacharis
After 7:31 PM- Light holiday candles from Pre-existing flame
Sunday, September 17 (Main service)
9:30 AM - Shacharis
11 AM Shofar blowing
All day stop by for personal shofar blowing
7:29 PM holiday ends
Yom Kippur • September 24-25 
Sunday, September 24
6:25 PM Candle Lighting
6:30-8:00 PM Kol Nidrei
Monday, September 25
10 AM Shacharis
12 PM Torah Reading & Yizkor
4:45 PM Mincha (We always need help with minyan on time in order to finish Neila on time)
6 PM Neila
7:18 PM Fast Ends
Sukkos • September 29 - October 1  
Friday, September 29
6:18 PM - Candle Lighting
Eat a meal in the sukkah!
Shabbos, September 30
10:30 AM - Shacharis
After 6:58 PM- Light holiday candles from Pre-existing flame
Sunday, October 1
8 AM-6:30 PM - Stop by sukkah to Shake Lulav
10:30 AM - Shacharis
7:10 PM - Holiday Ends
Shmini Atzeres 
To be announced
Simchas Torah 
To be announced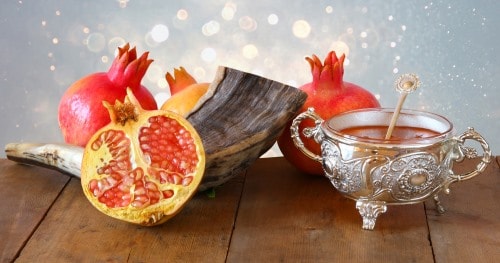 If the year is a train, the High Holidays (AKA High Holy Days) are its engine. A delicate blend of joy and solemnity, feasting and fasting, prayer and inspiration make up the spiritually charged head of the Jewish year.
The two-day holiday of Rosh Hashanah is the head of the Jewish year, the time when G‑d reinvests Himself in creation as we crown Him king of the universe through prayer, shofar blasts, and celebration.
A week later, the High Holidays reach their crescendo with Yom Kippur (the Day of Atonement). Like angels, we neither eat nor drink for 25 hours. Dressed in white, we pray in the synagogue—united as one people, children of One Father.
But it does not end there. The otherworldliness of the High Holidays is then channeled into the festive holidays of Sukkot and Simchat Torah, which bring the annual fall holiday season to a most joyous conclusion.